Learning with Makedo is...
Versatile

Suited to step-by-step and open-ended making, Makedo is great in any learning context like classrooms, maker spaces and summer camps.

21C Learning

Explore STEAM with Makedo and develop imagination, design thinking and the 4Cs.

Hands-on

Learning with low-tech, real tools is engaging and fun, inspires creativity, and develops fine and gross motor skills.

Affordable

Our tools are good value and reusable, and the making material - cardboard - is free!

Accessible

Suitable for ages 4+ and for a broad range of abilities, our tools are designed to be effective and easy to use.

Safe

Designed for kids, our tools meet and exceed major international toy safety standards leading to safer and more independent learning.

Scalable

Makedo creations can be any size from a flower to a fort, a mask to a maze so you can use Makedo anywhere from a desk to a playing field.
A toolbox brimming with learning potential and fun.
For classrooms, libraries, workshops, events, maker spaces, summer camps and more, Invent inspires the creative genius in all who use it. With enough low-tech tools for a whole team of makers to safely cut, fold and connect with up-cycled cardboard, cardboard construction has never been this easy! Support your learners to develop the 4Cs, STEAM and 21st Century skills, and easily link to curriculum standards.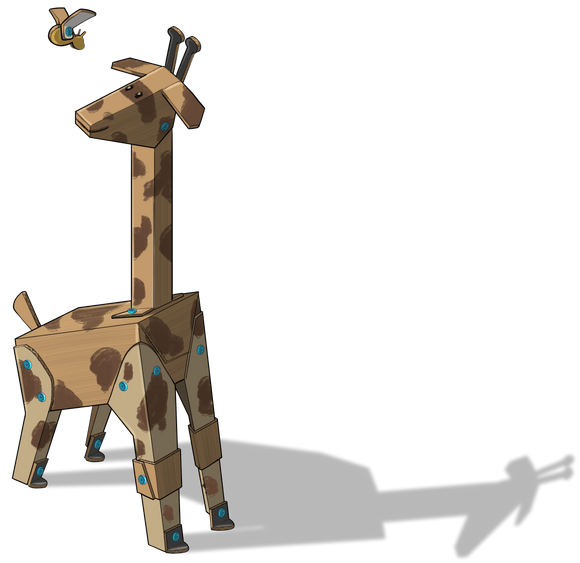 What educators are saying
"This is my childhood dream come true in a product. Have you ever created anything out of cardboard and tape? Well this is next level."

"These are an absolute game changer in the Makerspace. They mean I don't have to be rushing from group to group helping them by cutting cardboard with a knife that is too sharp for little hands."

"The students were totally enthralled and engaged with this process. I felt the same as the classroom teacher. Their creativity and collaboration were unparalleled."

"This is such great Project Based Learning. Love how the students helped answer their own questions."

"A game changer in the imagination to reality struggle."

"It's the most popular station at our makerspace after school event!"

"The Makedo kit is phenomenal."

"They are worth every penny in the amount of tape and faff they save."

"...some of the best learnings happen during authentic creation."

"I would highly recommend this for any teacher, any parent, looking to get hands-on."

"I loved the flexibility and problem solving abilities of this group and the dedication in seeing their work to the end."

"They have been obsessed with the Makedo kits. They are collaborating, planning, and teaching other classes now how to use the tools. Such a great tool for kids."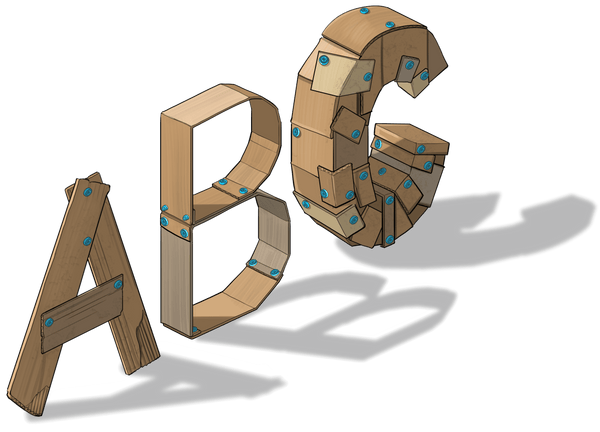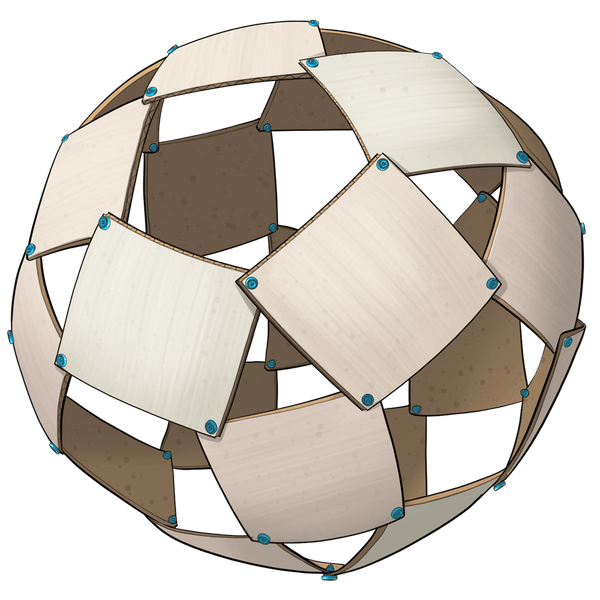 Cardboard as a building block

As a construction material, cardboard has a lot going for it. Here's why we chose it as the building block for all Makedo creations:
⊚    It's sustainable, fully recyclable and can be used again and again.
⊚    It's sturdy but pliable enough for small hands to manipulate.
⊚    It's versatile. Cardboard can be folded, sawed through and hole-punched all while maintaining its durability.
⊚    It's free! Fantastic for those modest classroom budgets.
⊚    Makedo interrupts the waste stream by using otherwise discarded cardboard for making do.
Proud supporters of:
We believe in teaching young people the skills to tackle our world's biggest problems.
That's why we developed Makedo Change — a series of interdisciplinary STEAM programs that explore the issues affecting the most vulnerable people on our planet.
Through hands-on learning experiences including Makedo cardboard construction as well as content-based lessons, students explore global citizenship and changemaking, investigate real world problems, and follow the design process to invent creative solutions.
Find out more ➔
image thanks to evidenceaction.org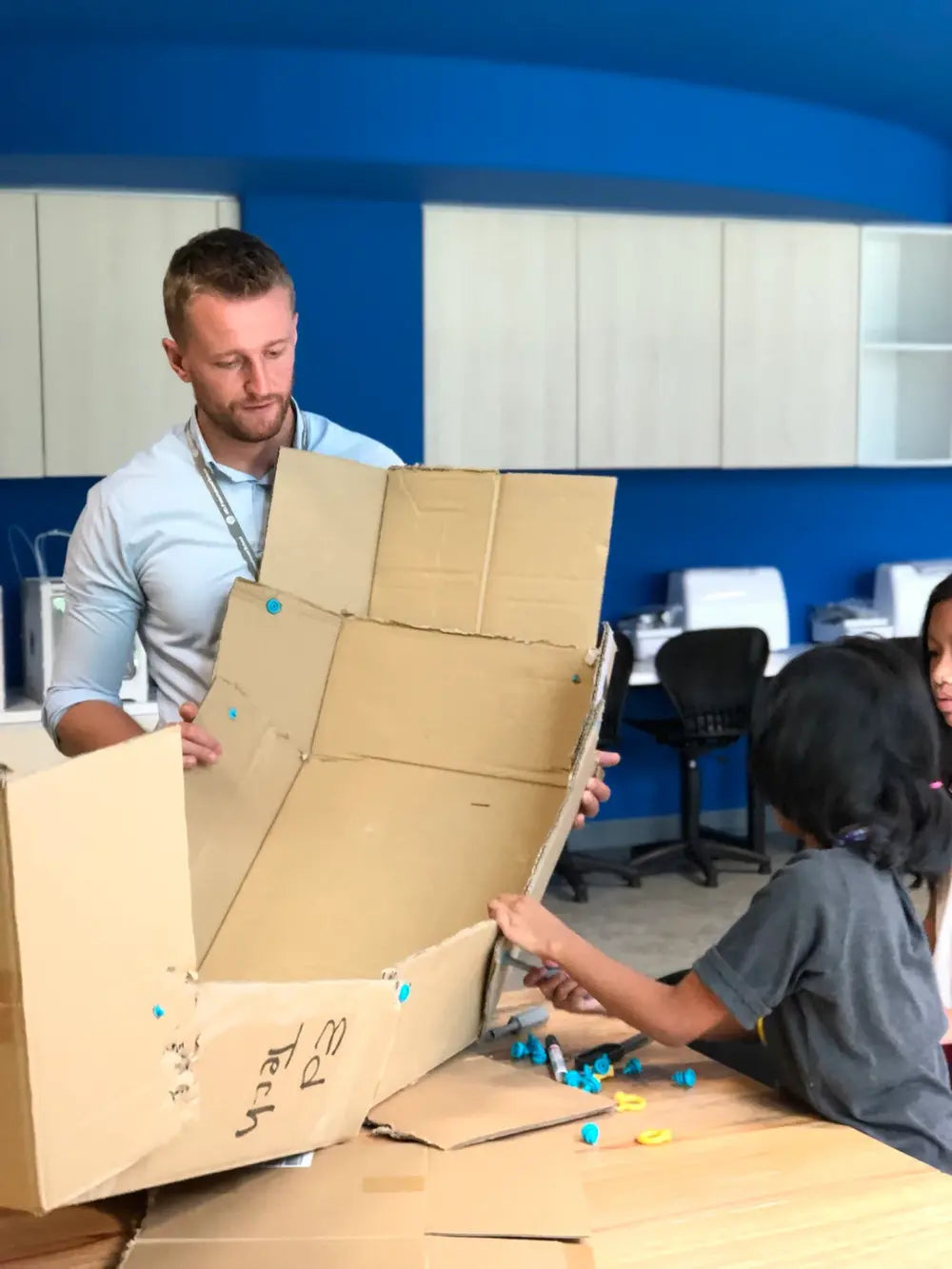 Makedo is the perfect STEAM teaching and learning tool.
Addressing an authentic problem with the application of knowledge across Science, Technology, Engineering, Arts and Math is fun and engaging with Makedo.
Think prototyping ideas for a stool that can withstand the weight of a classmate, or building a tower so tall and sturdy that it reaches the ceiling, or even exploring solutions for global issues like access to safe water. All this and more can be done with Makedo tools and cardboard.
And of course, STEAM learning with Makedo develops the four Cs; collaboration, creativity, critical thinking, and communication, as well as design thinking; the skills to question, analyse, reason, evaluate, problem solve, and innovate. Important skills for now and the future because real world problems need big picture thinkers to help solve them.
Makedo and 3D printing
To complement the Makedo cardboard construction system we have developed a library of Makedo compatible parts for you to freely download and 3D print.
There are parts to enhance functionality, improve efficiency and integrate directly with other maker products.
It's an ongoing project so keep checking back in!